We are the very proud recipients of the Highlands and Islands Tourism Award for Best Holiday Accommodation 2015! We are still a little bit in shock after the award ceremony in Inverness a few days a go, but have just about recovered from the ensuing celebrations. It was an amazing night. We really didn't expect to win the award and were excited enough to be in the final three. We'd been exchanging encouraging tweets with the two other business in our category so it was lovely to meet them in person on the night. Annie and Ewen from the stunning Ardgour Estate recognised us from our website and came over to say 'hi' before we had dinner. They are doing amazing things over at Ardgour and we were so impressed that they have started the self-catering business from scratch. After dinner we caught up with Hester and Ken Ross from the stunning lodges at Coillabus, Islay, and were so touched by their warm congratulations and also Ewen and Annie's. Strong bonds have been formed and we hope to visit both places in the near future.
We shared a table with a fabulous bunch from the Mull of Kintyre Run who were nominated in the Best Sporting Event category. Sadly they didn't win but if there was an award for Most Entertaining Table Mates, they would have won by a mile. We hold them solely responsible for our hangovers on Saturday as Campbell Reid, their head trouble-maker, produced several bottles of bubbly to toast our win. It went downhill from there.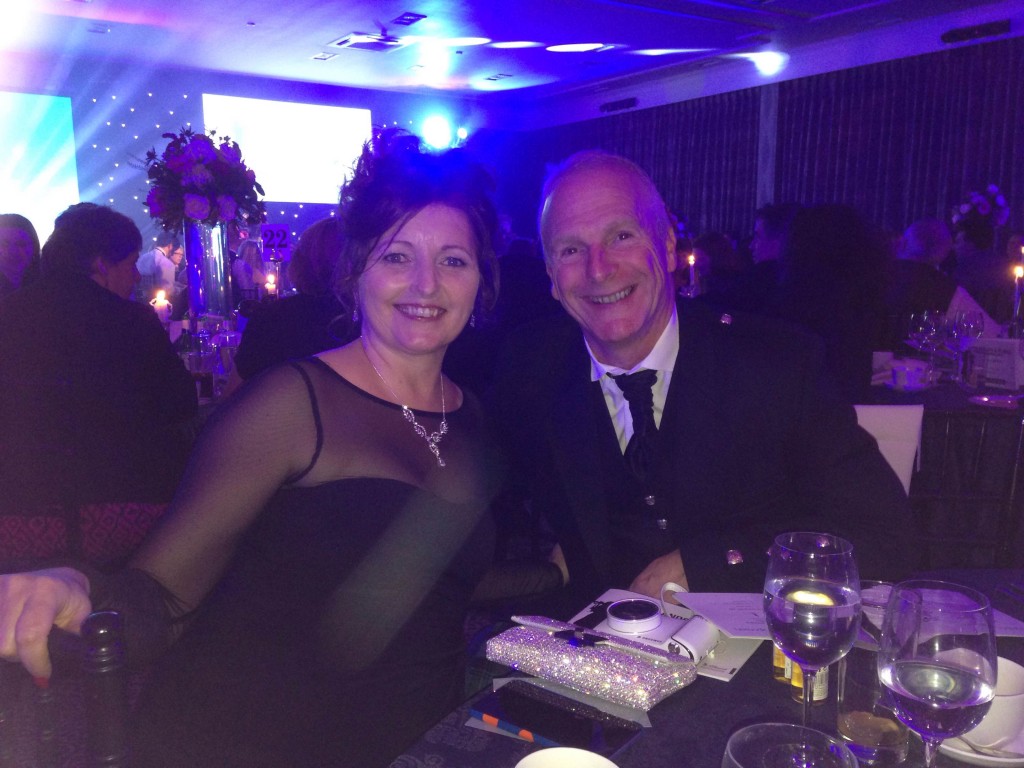 Also on our table were Sean and Karen O'Byrne of the Ardtorna Guest House, north of Oban, who won the award for Most Hospitable B&B / Guest House. We will catch up with premier-pharmacy.com them at the Thistle Awards in March which all regional winners go through to, and also hope to visit their stunning guest house at some point. I think we need to organise a wee tour of the Highlands and Islands!
Luckily we didn't get to make an acceptance speech on the night as we would have been on the stage for quite some time. There are so many people to thank and we really couldn't do this without them.  We are so lucky to have the support of Niall's parents, Mary and Donald,  who started the self-catering side of the business nearly forty years ago. We have simply built upon their success and are so grateful they are on-hand to help out, which they frequently do. Niall's aunt Carol and uncle Robert who live just 50 yards away have also been wonderful at stepping in when we've needed help and we feel very blessed to be surrounded much loved family.
We would be utterly lost without Pete who really keeps the estate running, whatever the weather, be it wood processing or road repairs and everything in between. His lovely wife Tracey has also been a wonderful help and we are very lucky to have them as close neighbours.
I never imagined I would enjoy changeovers as much as I do but thanks to the fabulous Hayley and her mum Carol, Monday and Friday mornings are a blast, as we put the world to rights whilst dusting, polishing and vacuuming.
Finally, a huge thank-you to our lovely guests who make the long journey to Torrisdale and fall in love with the place. It's wonderful that so many return again and again and that really makes all the hard work worth it.
What a fantastic industry to be in!