There was great excitement at Torrisdale last month, prompted by the arrival on site of a gigantic digger. It's presence heralded the start of the construction phase of the Torrisdale Hydro Electricity Scheme, which has been six years in the planning. To reach this stage, there have been numerous hydrology investigations, tedious planning applications, a grid connection application, a construction method statement, various in-depth surveys which covered amongst other things, otters, bats, traffic and topography; negotiations with neighbouring landowners and the all-important grovelling meetings with the bank. It is a fantastic achievement and testament to Niall's vision and toil, not to mention his greying hair and intermittent IBS.
It's taken me almost six years to understand how the scheme will actually work but I think I have a decent grasp of the facts now which I shall now attempt to share (without the use of wine glasses and condiments). Concentrate, here's the science bit:
The scheme has a 99kw rating and is projected to  produce approximately 400,000kw of electricity annually. A feed from Lephincorrach Burn will be collected 151m above sea level, and carried down 1km of pipes to a turbine which will turn very fast, producing power as it goes. This is then collected by unicorns and carried off to the National Grid to be made into lightbulbs. Wait, WHAT?  Perhaps I should pay more attention next time Niall goes waffling on about hydro matters. I do know that the deadline for our grid connection is October and we need to be producing electricity by November to benefit from our current agreed tarrif.
There is potential in the future to run Lephincorrach Farmhouse from the scheme and also the farm buildings, should we decide to develop them at any stage. This would be the most efficient use of the electricity as the export tarriff is lower than the price currently paid for consumption.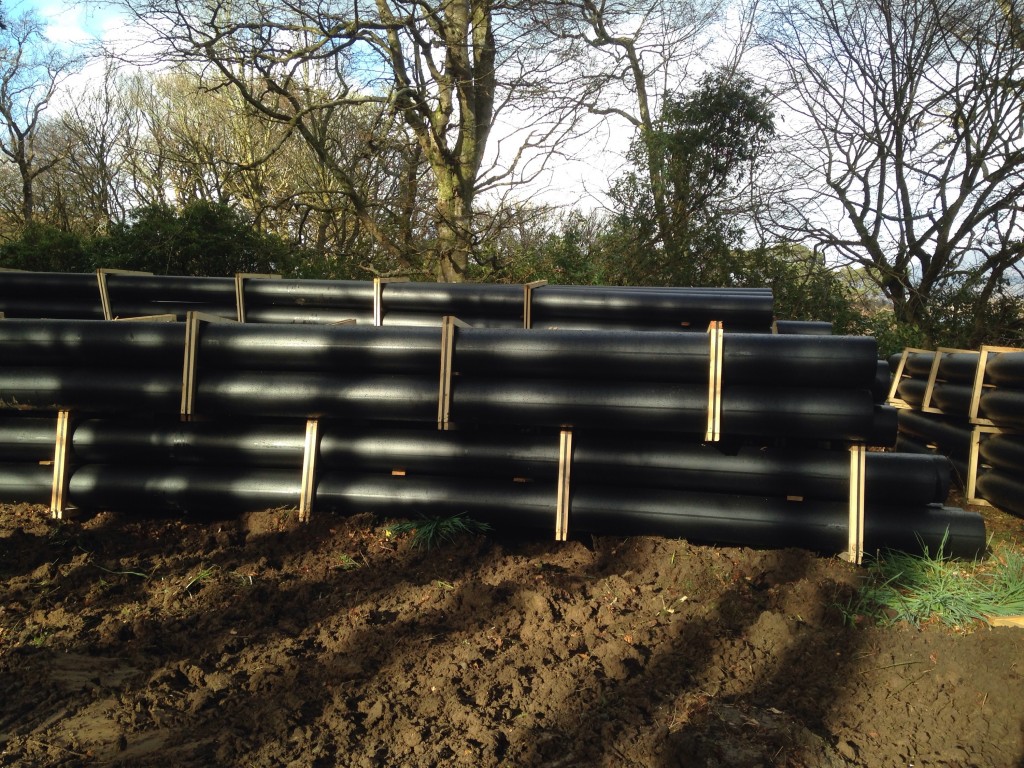 The project is being expertly managed by Adrian Loening of Mhor Hydro and the civil engineering work is being carried out by Sinclair of Connell who sent us the lovely Andy to operate the gigantic digger (thus making him the envy of every male on the estate). He will be joined by more workmen over the course of the project.
The 1km of pipes arrived a week ago from Austria on three articulated lorries and were temporarily deposited at the foot of Maimies Tree, much to my distress but luckily no damage was done. (NB If you are thinking about driving an articulated lorry to Torrisdale at any point, please don't do what one of the drivers did and follow your sat nav religiously down the long and winding (and totally unsuitable for HGVs) B842. The poor chap was in quite a state when he eventually arrived.)
The turbine itself is coming from the Czech Republic, (with any luck down the A83)  supplied by Hydrohrom.
Unicorns and daft lorry drivers aside, this is an amazing development for Torrisdale and should considerably boost our income, allowing vital repairs and maintenance to the castle and ongoing improvements to the holiday lets.  The income will also allow us to invest in new projects on the estate, such as the shop and cafe which has recently been submitted for planning.
Exciting times are ahead of us but I am keeping it real by ploughing on with the ironing. We are full over Easter and the summer bookings are looking good too. We've already had wonderful feedback in 2015 and are gearing up for the start of the season proper. We are welcoming back many familiar faces who have fallen for the charms of Kintyre but are delighted to meet newcomers to Torrisdale who will hopefully come again and again.