We have just hosted our first wedding as Torrisdale residents and I'm delighted to report that it was a big success. We loved every minute of it and by all accounts, so did the wedding party.
Preparations began many months ago with the arduous task of clearing out the downstairs rooms which have had a habit of accumulating several generations worth of furniture, nik naks, back issues of AutoCar Weekly and broken vacuum cleaners. Thanks to a sterling effort by the fabulous Hayley and a truck load of pledge, the billiard room, drawing room and dining room were restored to their former glory and the castle was miraculously transformed from messy family home to stunning wedding venue.
It was a far cry from when the bride and groom first came to view Torrisdale and we were showing them around saying, "imagine the dining room without the filing cabinets and weight bench", and, "this is where you'll be married but we'll get rid of that pyre of broken furniture and the scantily-clad mannequin*." Fortunately Rob and Caroline had good imaginations and had already fallen for Torrisdale's charms. They wanted an intimate wedding with only very close family, so it was perfect for their needs.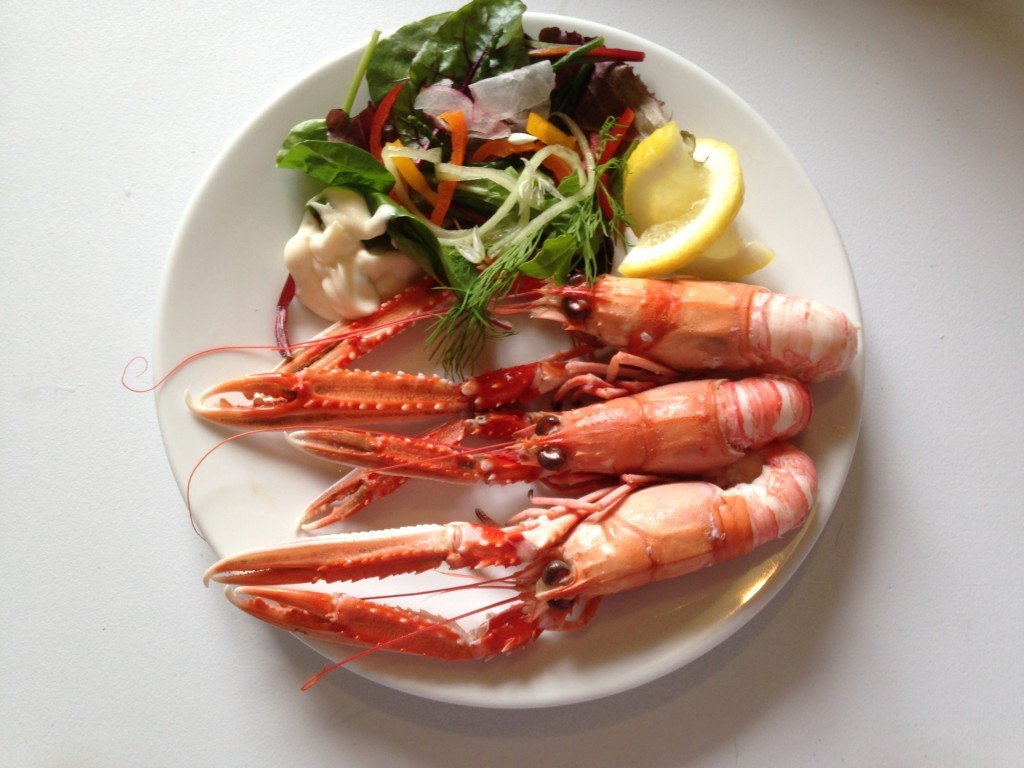 On the menu for the wedding feast were local langoustine, caught the day before and still jumping when they were delivered to our door by our lovely friends from the Kintyre Smokehouse. The local theme continued with the main course which was medallion of Ifferdale lamb, reared on our doorstep by Andrew Gemmill and beautifully prepared by his wife Moncia who was our chef for the day. A trio of deserts finished the meal and every mouthful was delicious. Monica created an amazing lime cheesecake and a traditional Scottish cranachan and my Chocolate Nemesis completed the trio. Fortunately I had a practice run as my first effort collapsed into a gloopy heap. It was still delicious and was distributed around the estate in ramekins but I was very relieved that it worked out on the day.
Sadly the weather didn't live up to expectation but nobody minded as the celebrations continued in the drawing room after dinner. The dog and the children gatecrashed spectacularly, with the former making very good friends with gorgeous bridesmaid Alison, and the latter staring in awe at beautiful bride Caroline before being dragged off to bed.
Niall and I were on breakfast duty the next day, and it was lovely to catch up with all the guests again. Once again the focus was on local produce, apart from the Stornoway black pudding(!) and everyone tucked in enthusiastically.
It was a wonderful first experience and we were sad to say goodbye to the Livings family but I'm sure we will see them again in the future. It was such a privilege to be part of their special day.
The wedding wasn't the only romantic occasion at Torrisdale that week – our garden cottage guest very sweetly phoned to ask if he could propose to his girlfriend on the old bridge. I may have burst his ear drum with my excited shrieks but all went well and of course, she said 'yes'!
We are starting to think there is something in the water as just a week or so later one of my oldest friends,  who was visiting with her partner and their two kids, appeared for breakfast with a gorgeous sparkly diamond on her left hand. It took a wee while for it to register in my fuzzy Sunday morning state but when the penny dropped, I had to suppress my urges to jump for joy as there were guests in the bedroom below. Silent shrieks followed and many, many happy tears.
Our next wedding is in two weeks time and miraculously the castle is still looking clean and tidy, apart from the odd plastic pony or Barbie doll that have escaped from the playroom. The numbers are higher this time so the format will be slightly different but we are very excited about it and thrilled that we took the plunge with this new direction for the business.
*'Isabella' was a prop in the Carradale Drama Club, of which Niall's parents are members. She has taken up residence in the castle and has alarmed many visitors over the years. We can't quite bear to consign her to the attic.