Torrisdale has suffered a devastating bereavement following the sudden passing of Niall's dad, Donald, a fortnight ago. He fought a brave fight against cancer for three years but sadly succumbed just a few days after being admitted to hospital.
Our loss is palpable. Donald was truly the heart and soul of Torrisdale and was Niall's adviser, fixer and source of knowledge about every nook and cranny of the estate. In the last few months, he may not have been as physically involved but he was still a vital part of our wee team and it still doesn't seem real that we can't just pop downstairs to ask him a question or seek his advice.
He was very supportive of all the developments Niall has introduced to Torrisdale. We are so thankful that he lived to see the hydro scheme completed and producing power. He was one of the very few trusted people to be allowed near the biomass boiler (I am not one of them!) and insisted on being the back-up stoker whenever Niall had to be away, throughout his treatment. When we were revamping the Servants' Quarters, we cut it particularly fine with the deadline. Guests were due to arrive the following day and there were still significant tasks needing completed. I will never forget Donald, fresh from major surgery, perched atop a ladder, drill in hand, hanging paintings. There was no stopping the man.
His favourite task, and one which he was reluctant to entrust to anyone else, was mowing the castle lawns. Somehow all seemed right with the world when Donald was cruising up and down the grass on his trusty John Deer ride-on mower. Not even chemotherapy could stop him and Niall only had to take over once or twice during Donald's treatment and always under his dad's watchful and critical eye. It will be with a very heavy heart that the task will be undertaken this spring.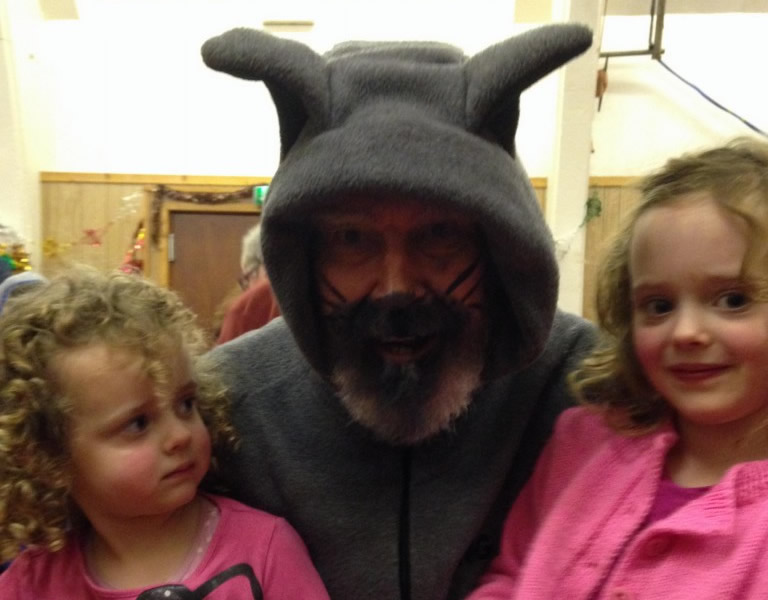 We have been bowled over by the support and kindness shown to us all by the local community. Donald was a huge part of that community and served many committees, groups and organisations over the years. He was loved and respected by everyone, even those who felt the sharp end of his tongue on occasion.  Donald did not suffer fools!  He was full of humour though and took immense joy in the passions he shared with Mary, such as drama and Gaelic choir. He adored his grandchildren and had abundant patience for little ones. Latterly, he found an effective solution for when noise levels got too much – he would simply remove his hearing aids!  They adored him back and it was a wonderful thing that Mary and Donald made it to New Zealand to spend Christmas 2015 with their eldest daughter Juliet and their three eldest grandchildren, Mathew, Molly and Kamron.
It has been hugely comforting to read the tributes to Donald on our FaceBook page, from WWOOFers who volunteered here, to holiday guests from years gone by.  The sentiment is the same – they all remember fondly, a lovely, helpful, kind man, usually in a boiler suit, most often with twigs in his hair. Donald and Mary started up this business from scratch and put their hearts and souls into it. It is an enormous privilege to be carrying it on and building on their success. Niall confided with his dad on some of his future plans and madcap schemes and he was always encouraging and supportive, never critical or negative (except about Niall's lawnmowing skills!).
We will have to adjust to a new kind of normal here and it won't be easy but we are so lucky to have had three years of wonderful support from Donald and continuing support from Mary. We will return that support in spades at this very difficult time for her as we all try to come to terms with this huge loss.
Donald will never be forgotten and his influence will be felt for decades to come. Our daughters have been tasked with telling their baby cousin, Ossian, all about his wonderful Bubba Beard and we will honour his memory by continuing to give Torrisdale our all and keeping his precious lawn at regulation length. Rest in peace Donald.